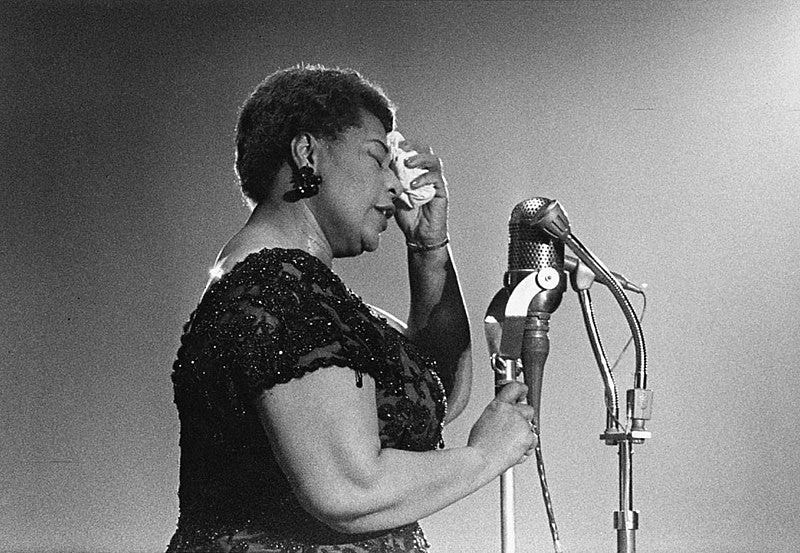 Famous Artists with Dance Towels
Bringing a towel to your dances and to the stage has always been "a thing" here's where whe show the people who would surely have brought a Dance Towel, if it would have existed in their lifetime.
Ella Fitzgerald
Ella had a towel with her in almost every performance! You can find hundreds of references for that. It was usually a silk handkerchief and I found references of white, green and dark red ones that she had.
If she was still alive, she would surely be one of the greatest ambassadors for the Dance Towels.
Louis Armstrong
Louis basically always had a towel in his left hand. You can even see it on the cover of albums. For trumpeters especially it's important to have a towel with them, not only for the sweat, but also to keep the instrument clean. He surely would have switched to a more stylish version with the Dance Towels which are also more absorbant than the pure white cotton he used.
Content from Youtube can't be displayed due to your current cookie settings. To show this content, please click "Consent & Show" to confirm that necessary data will be transferred to Youtube to enable this service. Further information can be found in our Privacy Policy. Changed your mind? You can revoke your consent at any time via your cookie settings.
Consent & Show
The second dancers in After Seben 0:53
Most Lindy Hoppers know the clip After Seben where we can see the "breakaway" for the first time on film. But what we can also see is that the leader of the second couple clearly has a towel intentionally hanging out of his back pocket to show some style and care.
Django Reinhardt
Django loved to wear scarves as acessories outside and even on stage. He surely would have loved the Dance Towels, too.
Sign up to the Dance Towels Newsletter
- Tipps, tricks and life hacks for dancers
- Get notified about new designs and restock
- Get involved into the Dance Towels design process
- Get exclusive behind the scenes insights