Pocket-Square-Style
Dance Towels
30cmx30cm premium microfiber Dance Towels that you can put in any pocket. Quickly dry your head wherever you are. Your partners will highly appreciate it.
Win a Dance Towel by signing up to the Dance Towels Mailinglist
- Every 100 signups we randomly pick someone who wins a brand new Dance Towel

- Get notified about new designs and restock
- Get involved into the Dance Towels design process
- Get exclusive behind the scenes insights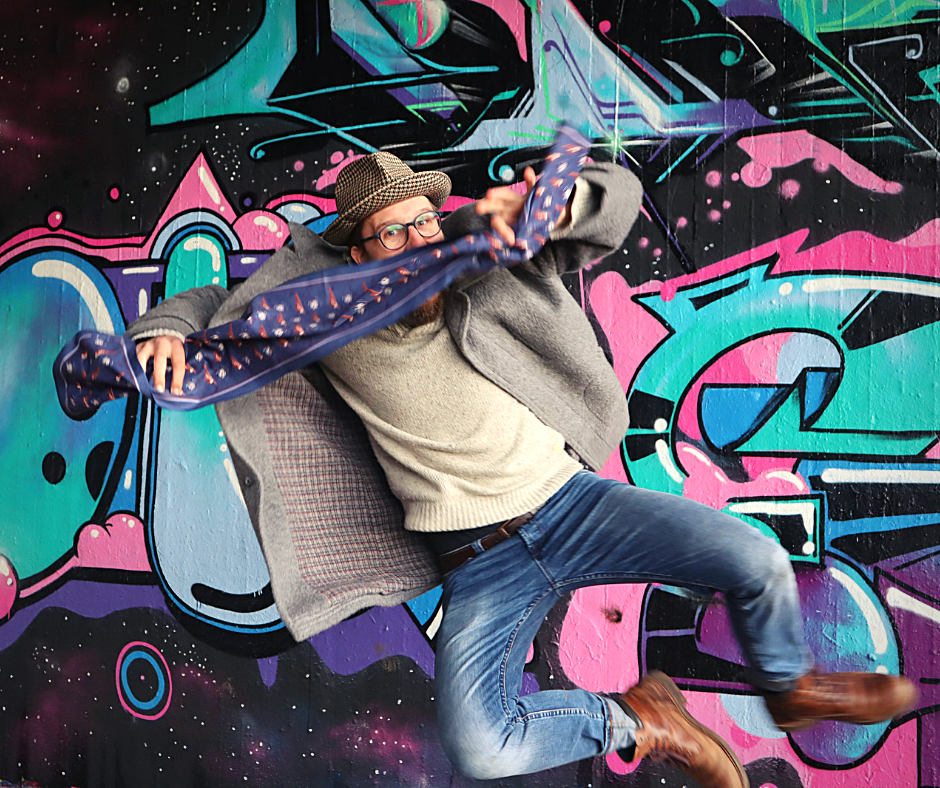 Ultimately: Bringing a towel to your dances is something you do out of care for your dance partners and hundreds of dancers and musicians across the world have already joined this movement.
"I move a lot on stage. The Dancetowels are the perfect stage towels for me! Thank you!"

(Doc Puki - Ray Collins Hot Club - Germany)
"Seriously, amazing job all around."

(Bobby White - Swungover - USA)
I really love the pink towel designed by Tanya, that I received yesterday😍 It sits perfectly as a head wrap.

(Alex - Fashion designer - Belarus)
"What a great Idea! And also the packaging is incredibly beautiful"

(Cosma and Tamy - Swing and Boogie teachers - Germany)
"Surprised him and he wore it all day"

(Elizabeth Pascoe - USA)
"Spring has arrived and the savoy is on its head! Thank you Dancetowels!"

(Swing DJ Bunny Donowitz - Italy)
"I love the Dancetowel! Sadly it doesn't fit though the clarinet, otherwise I would use it for everything."

(Denis Girault -
Denis Giraults Old Jazz Quartet - France)
"It works great and looks awesome - fully recommended! Pic after training the Big Apple"

(Wojciech Ko...
Scientist - Germany)
"The Dancetowel is just
the best towel for hiking! :D"

(Leonardo Galotto
Shag-Teacher - Italy)
"Une super serviette!
Séchage hyper rapide."

(Kitty Rock Swing - Swing teacher - France)
"He just loves aviation and dances with Lindy Hop Jersey"
"I guess this is what happens when you find another Dance Towel owner at a concert!"
" Beautiful thoughtful design, super soft fabric and really practical,too!"

(Joseph Sewell - Lindy Hop teacher and founder of Jiveswing UK)
"Your towels are gorgeous! "

With love from Paris.
"Your towels are awesome!"

Jo Hoffberg - Ilindy.com
Who and why Dance Towels is:
Our goal is to create microfiber towels for dancers and musicians that look so great that they want to bring them to every event to dry their sweat and look great at the same time.

It was when Benedikt (the dancer in the vest in the picture above) was so sweaty one night of dancing, that he dripped drops of sweat onto Annika, who was not too happy about it, that he decided:

- "I need a microfiber towel to dry my head during dance breaks."

So he went to a sports store and found one ... in neon green!

- "Don't you have a prettier one that might fit an elegant evening outfit?"

- "Aehm what? No"

Benedikt looked everywhere, but found no elegant looking microfiber towels that would match elegant, yet even vintage outfits, so he thought:

- "How many do I have to order to have them custom made?"

Turns out... hundreds... and that's how "BJ Dance Towels" was founded!

Now we are a team lead by Benedikt (The one that does everything), Annika (The one that keeps Benedikt sane) and Gosia (Who creates the most awesome designs) that create elegant towels for dancers and musicians all across the world.

Click the button if you want to know more:
Ultra Absorbant
Dance Towels like "The Savoy" Absorb 3x more than a cotton towel of the same weight
The reason why microfiber is so absorbant is that the fiber is not round like cotton, but it has many "pockets" along the length of it that can take moisture way better than any round fiber.
Fast Drying
Dries within a few songs because microfiber doesn't hold water.
Of course it all depends on how wet you make the Dance Towel, but overall our tests concluded: A fully soaked Dance Towel like "The Aviator" will usually be completely dry the next morning, so if you are at a festival, you can use it at night, wash it, when you get home and it should be ready to use the next day.
Super Soft
Becomes super soft after the first wash.
When you touch an unwashed Dance Towel like "Tanyas Sweet Secret" , it might still feel a little stiff, but after the first wash it will be soft and kuddely.
The Perfect Present for Dancers
The Dance Towels come in an awesome looking gift box that has 4 dance pairs on it, each representing a different dance style. When giving a gift, the first impression is what's important so we made sure the box is as awesome and iconic as the content.

In our dance schools there are a lot of occasions, where we need a really good present for a dancer. Maybe you need a present for a dance partner or a present for a dance teacher or a present for an organiser that shows appreciation and doesn't break the bank. The Dance Towels are perfect for that. Collect 5€ from 10 ppl in a course and you can gift your dance teacher a custom embroidered Dance Towel.

If you need a bigger present around 150-200€, we recommend you check out our article about Swing Dancing Shoes by Swing dancers here.
Made from 100% recycled bottles
This was very important for us and it actually made it very hard to find a producer and it also doubled our production costs to have the Dance Towels made from recycled bottles. The Dance Towels feel like a very soft fabric, you wouldn't guess it's plastic and you can wear it with pride because you know they reduce the amount of plastic going to waste.
Machinewashable at 60°C to prevent any smell
You surely know It is very important to be able to wash polyester clothing at 60°C because bacteria can thrive on the surface and create bad odors. What you might not know is that most microfiber towels will micro melt and loose their structure and their absoring qualities when washed above 30°C. That's why we went the extra mile and created microfiber towels that you can wash at 60°C/120°F over and over without them loosing their quality.
Antibacterial Fiber Structure
On a microscopic level the microfiber of the Dance Towels is created in a way that it traps bacteria in its fibers, so you will never smear any bacteria onto your face because they are trapped inside the fibers. These bacteria will then be killed and released at 60° in the washing mashine and the Dance Towel will be fresh again.
By Dancers For Dancers
We created the Dance Towels first and foremost for ourselves and we use them basically every day. That's why we created them exactly how we wanted them and we are very sure you will love them, too.
If you want to know more about the people behind the Dance Towels, you can read about us here.